Successful companies know the value of marketing and branding campaigns. Every opportunity to cement your name and logo in the minds of consumers should not go unnoticed. Going beyond traditional advertising to give away items with your name and contact information, you can never stop looking for ways to promote your products or services.
A fairly new marketing scheme has emerged in recent years. The creative wall sticker can be produced in various sizes and applied just about anywhere. The vinyl designs easily adhere to windows or internal and external walls. The wall décor design can simply be a reproduction of your logo or a design firm like Artwork Adobe can develop the product for you, meeting all of your expectations.
Corporate Culture and the Role of Wall Stickers
Companies large and small develop a unique culture over time. Hopefully, yours is a positive one. Some organizations are laid back and informal, while others are more proper and official. Studies show that healthy companies have a culture of openness, with good communication from the top down. When developing a wall sticker, the design can easily reflect the type of culture your company has developed over time. The designs can be whimsical or spiritual.
Types of Wall Decors for Businesses
Wall art stickers have transitioned beyond a fleeting trend to become a steady fixture in any corporate environment, whether it's a small boutique restaurant or a large technology services company. Though wall art stickers often get lumped into one creative concept, there are numerous different display options for this type of design that makes it a very versatile choice for brand logos, signs, quotes, and messages. Depending on the material, wall stickers can be displayed on floors, glass windows, ceilings, cubicle walls, temporary barriers, and outer areas as well.
Here's a quick overview of some of the great wall decors available to businesses: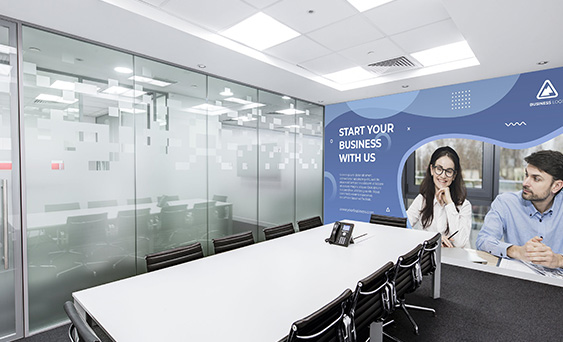 Wall Wraps: Wall wraps, or partial wall wraps, can cover unattractive wall surfaces with unique brand designs, or transform plain walls into an advertisement for brand services. With the right creative design, wall wraps are essentially like branding wallpaper and are a fantastic way to feature a variety of brand elements, like color, slogans, messages, quotes, icons, and symbols. For example, a non-profit organization could present symbolic imagery of people in their outreach program, underscored by a slogan encased in brand colors.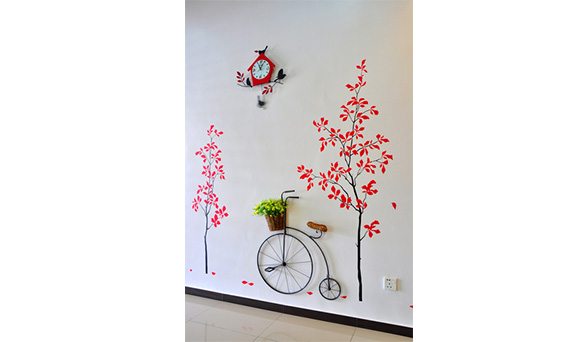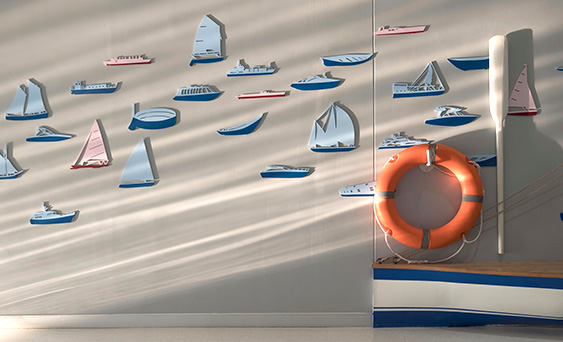 3D Wall Stickers: This unique style of decal includes both literal interpretations of 3D, with elements that pop out from the wall, like flower petals on a cherry tree, and implied 3D elements, like shading to create depth on a cityscape. Businesses with a more informal or creative company culture often utilize these types of wall stickers decal in their corporate space to provide whimsical and fun atmospheres for both team members and customers.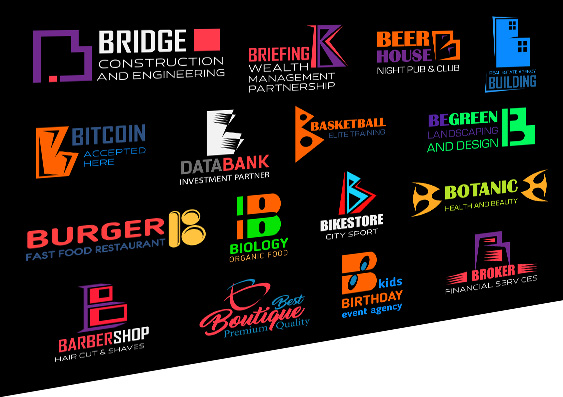 Logo Decal Stickers: Most people are familiar with logo decal stickers, which usually feature a brand's logo either alone or with a short brand slogan. These are a sure way to enforce brand recall and strengthen brand identity. Brands in every industry utilize this type of wall sticker and make use of symbols, silhouettes, and other creative variations to get the most mileage out of their logo. Think of PUMA with their simple, bold font and panther silhouette, or UPS with their two-color shield icon, or Converse with their simple star.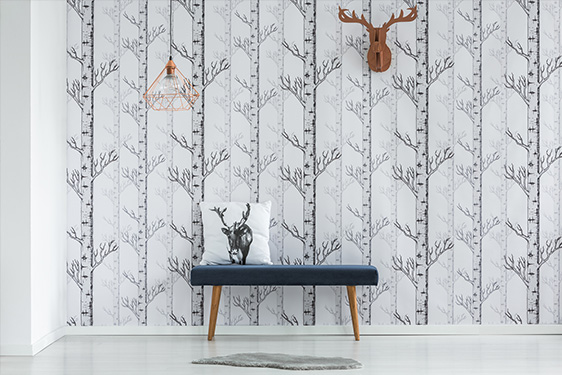 Wall Mural Decals: Decals that cover large wall areas are ideal for creating a specific mood or enhancing an existing brand theme, and have been popularized by businesses like Mariott, Facebook, and Google. These usually include either a pattern or motive, like a colorful shape, or a vivid display of brand culture in the form of images, mission statement, and even stylized team photos. They can enliven small office spaces, like a physician's waiting room, or bring a cozy touch to a massive area, like a large cubicle workstation.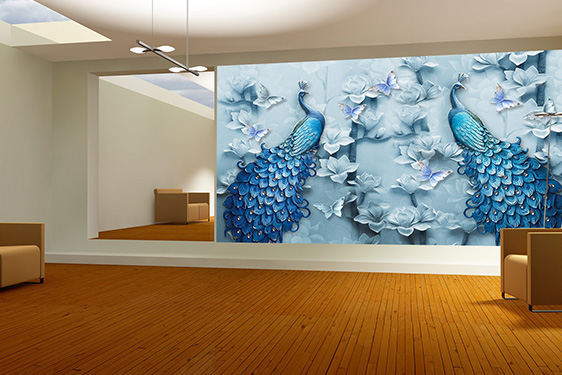 Vinyl Wall Decals: Custom signs, like neon and metal, are expensive and cumbersome. Many businesses prefer the ease, flexibility, and space-saving design of vinyl decals to present welcoming quotes to guests and customers, indicate where specific facilities are located or feature business titles above office spaces. These can include brand designs, colors, mascots, images, and themes, and are perfect for businesses like spas, hotels and hospitality, and knowledge-services that frequently cater to clients.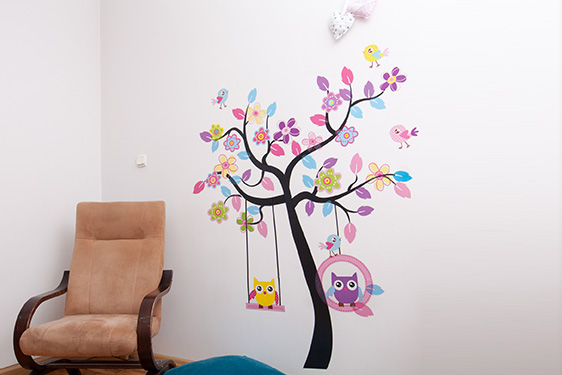 Wall Decor Stickers: Industries in creative oriented domains, like fashion retailers, consultants, publishing, gaming, and architecture, often use wall decor stickers to complement interior spaces and add aesthetic. Brand messages using custom fonts and lettering, inspirational quotes, or motivational team decorations are popular choices, though the options are nearly limitless and include everything from elaborate nature-oriented themes to minimalist details.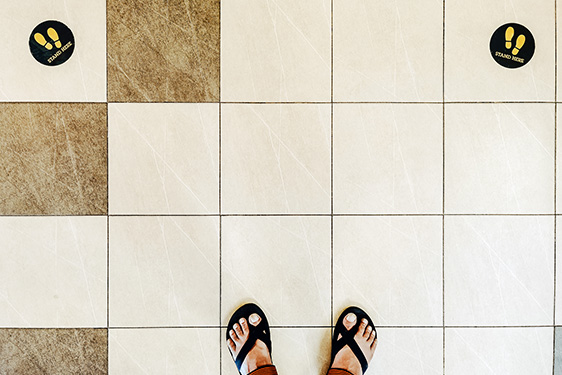 Floor Decals: This type of decal has recently become highly in-demand due to current social distancing requirements. Grocery stores and restaurants, retailers, and service-based businesses like healthcare providers, use floor decals to enforce safe customer interactions and new regulatory practices. Decals like "6 Feet Apart" and "Keep Social Distance: Wait Here" are just a couple of examples of popular designs being used today.
Designing Professional Wall Stickers for Brand Identity
Brand identity is a multidimensional, organic concept that can't be distilled into a single element. The complexity of capturing brand identity, including values, target audience, corporate culture, mission statements, and more, into a creative design is even more layered when considering all of the design and branding factors that play a key role in designing creative wall stickers for corporate purposes.
With this many balls in the court, it can quickly become a struggle to align brand identity with all of the design elements needed to create effective, compelling custom wall stickers for corporate culture. This is where experienced design houses can help; by deploying strategic use of color, shape, layout, typography, and other design concepts, a cohesive alignment between corporate identity and design can emerge, resulting in impactful wall art for any professional environment.
Below are just a few of the design and branding aspects that must be considered when developing wall art stickers:
Represent brand values Wall sticker design should demonstrate what makes a brand unique within the market, and what they can offer that their competition can't deliver. By including value differentiation within the design, such as the simple positivity and uplifting smiling face within Goodwill's imagery, brands can convey their values without saying a word.
Logo placement Logos need to be uncluttered, highly visible, and arranged within the overall design in a way that doesn't detract from any typography, such as a slogan or message. It also needs to be either placed in a framing shape, like a circle or shield design or simply left as an organic shape. As the guys from Schlüsseldienst Berlin say, such a solution can be a hallmark of the company and dilute the atmosphere.
Color choice Corporate colors should be included, ideally a select palette of no more than three colors for a logo wall sticker, or a more varied take on brand colors for wall mural decals, for example. Colors should also represent the target audience, such as a subdued blue and gray scheme for more formal business.
Brand message The wall sticker must be reflective of brand messaging, including value statements, target audience, and language. Clever design can even create hidden messages within a logo design by making use of negative space, color, and frames. For example, the hidden arrow in the FedEx logo, or Toyota's logo with overlapping ovals that actually spell out the brand's name.
The Creative Design Team for Today's Branding Needs
Artwork Adobe (AWA) is a creative powerhouse with over ten years of experience in graphic design and the practical arts. A team of educated designers and artists with experience in diverse creative domains ensures we can deliver captivating designs that meet any and all objectives. From trendy unicorn wall stickers to motivational vinyl wall decals, AWA provides the personalization and originality needed to make a lasting statement.
Our specialization in brand identity design, wall sticker design service, illustration, desktop publishing, and graphic design to client-specific brand guidelines, is just a small part of the expertise that has made AWA a trusted and reliable artworker for clients across every industry.
-Artwork Abode